dr. Jenny Boulboullé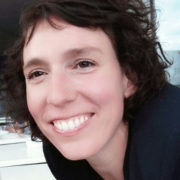 Jenny Boulboullé studied Art History and Romance Languages in Heidelberg, Germany. She continued her studies in Art History and Philosophy in the Netherlands (MA Art History, MA Philosophy, University of Amsterdam; PhD, Maastricht University, Dec 2012). She joined the ERC-funded ARTECHNE project at Utrecht University in July 2016, where she is currently working as a postdoctoral researcher. Before that she worked at Columbia University as a Columbia-CHF scholar and Lecturer in History, and as a researcher and research policy advisor at different universities in the Netherlands and at the Royal Netherlands Academy of Arts and Sciences.
Jenny Boulboullé's research focuses on hands-on experiences, practices, materiality, and aesthetics, combining philosophical, historical, and ethnographic research methods. She is currently finalising her research monograph In Touch With Life: Investigating Epistemic Practices in the Life Sciences from a Hands-on Perspective, which is forthcoming with Duke University Press. Central to her first book is the notion of 'hands-on' with which she draws together an argument that threads between seventeenth-century natural philosophy and experimental practices (in particular the anatomical work by René Descartes), laboratory practices in the present-day life sciences, and contemporary artistic practices (Bio Art). Her theoretical framework combines phenomenology, science & technology studies (STS), and historical epistemology to provide the reader with an original investigation into the historical context of Cartesian epistemology, subverting the traditional view of Descartes as a 'thinker without hands' and instead placing hands-on experience and aesthetic reflection at the heart of modern epistemology.
At Columbia University, Jenny Boulboullé extended her research interests into the pre-modern period and the research field of embodied cognition. At Columbia's Center for Science & Society, she participated in Prof. Pamela Smith's The Making and Knowing Project, a collaboration between Columbia University and the Chemistry Heritage Foundation with partnerships in Germany, the Netherlands and other European Countries that will result in the critical online edition of a late sixteenth-century manuscript. The project focuses on the intersections between craft and science and investigates the epistemological significance of artisanal practices for the rise modern of experimental sciences. In the context of this project Jenny used experimental reconstructions and ethnographic methods as a means to study material culture, artisanal practices and art technologies of the pre-modern period and the practice of reconstruction research in the Making & Knowing Laboratory. What she liked most about this project is the complexity and diversity of its research methods, combining hands-on research in the laboratory with object-based, and text-based historical research, and its inherently collaborative approach.
She is especially interested in methodological questions concerning the reconstruction of historical experience and embodied knowledge, close readings of recipes in their original language and translations, and in digital humanities tools and digital environments for international collaborations. At the ARTECHNE project she continues her research on these issues, studying artistic technique as codified in art technological how-to texts. Her sub-project focuses on modern editions of early modern recipes, in particular on 19th-century editions and their making, which are still in use in today's conservation and research labs.