People
prof. dr. Sven Dupré
Sven Dupré is Professor of History of Art, Science and Technology at Utrecht University (History & Art History) and the University of Amsterdam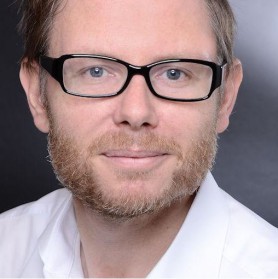 (Conservation & Restoration). He is the Scientific Director of the ARTECHNE project 'Technique in the Arts: Concepts, Practices, Expertise, 1500-1950', supported by a European Research Council (ERC) Consolidator Grant. Since 2018 he also heads the NWO Smart Culture Art DATIS project on the history of glass focusing on the archives of the artist Sybren Valkema (1916-1996), in collaboration with the RKD Netherlands Institute for Art History, the Corning Museum of Glass and the Glasmuseum Hentrich, Dusseldorf.
Previously he was Professor of History of Knowledge at the Freie Universität and Director of the Research Group 'Art and Knowledge in Premodern Europe' at the Max Planck Institute for the History of Science in Berlin. In Spring 2017 he was a visiting fellow at the Institute for Advanced Study (University of Warwick) and the Center for Research in the Arts, Social Sciences and Humanities (CRASSH, University of Cambridge). In Spring 2015 he was Robert H. Smith Scholar in Residence for Renaissance Sculpture in Context at the Victoria and Albert Museum in London. His research has been supported by visiting fellowships at the Institute for Advanced Study in Princeton and at the Sydney Centre for the Foundations of Science at the University of Sydney.
Dupré's research is at the crossroads of art history and the history of science and technology. He is a member of the Descartes Centre for the History and Philosophy of the Sciences and the Humanities at Utrecht University, co-directing (with Wijnand Mijnhardt) the project "Creating a Knowledge Society in a Globalizing World, 1450-1800" in cooperation with the Max Planck Institute for the History of Science and the Netherlands Institute for Advanced Study (NIAS). He is actively involved in research in technical art history at the Atelier Building, where the Rijksmuseum, the Cultural Heritage Agency of the Netherlands and the University of Amsterdam combine their knowledge in the field of restoration and preservation of art objects. He is a member of the advisory board of the NIAS-Lorentz Program and the NICAS (Netherlands Institute for Conservation, Art and Science) Scientific Working Group.
He is a member of the editorial boards of the journals Nuncius and Science in Context, the editor of the Journal for the History of Knowledge, an associate editor of History of Humanities, a former member of the advisory board of Isis, co-editor of the Nuncius book series on material and visual history of science and Knowledge Societies in History (Routledge), advisory board member of Art & Materiality, Frontiers in the History of Science and Techne: Knowledge, Technique and Material Culture, and a member of the Académie Internationale d'Histoire des Sciences in Paris.